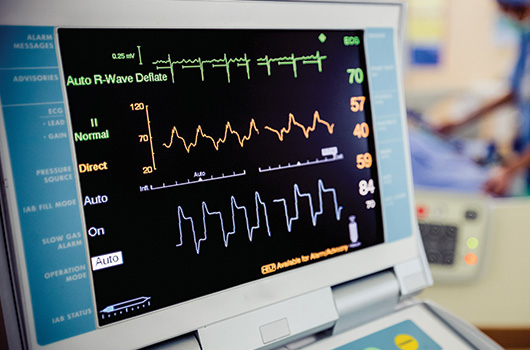 Get cardiology consultations and evaluations right here in Sonora. Services include stress testing, stress echocardiogram, electrocardiogram (EKG/ECG), holter monitoring, cardiac echo, vascular exams, and dietitian consultation. For more information about these services please see below
KAI "JACK"SUN, DO FACOI. will see patients at the hospital on the second and fourth Wednesday of each month. Appointments may be made by calling Community Medical Associates at 325-245-4501. Patients should present to the main registration desk at the hospital entrance for their appointment.
These services may be scheduled by your physician. For more information, please contact 325-387-2521
Stress Testing
Stress Testing is used to evaluate exercise tolerance and determine if there is narrowing in an artery leading to the heart muscle-a warning sign of a possible heart attack. By comparing the electrical activity of the heart before, during, and after physical exercise, your doctor can determine how well the heart muscle is functioning during increased stress.
Stress Echocardiogram
An Echocardiogram Stress Test (Stress Echo) is a test that combines an ultrasound study of the heart with a stress test. A stress echo looks at how the heart functions when it is made to work harder. The stress echo is identical to the stress exercise test, except, an echocardiogram is performed before and after you exercise.
The stress echo is especially useful in diagnosing coronary heart disease and the presence of blockages in the coronary arteries (the vessels that supply oxygen-rich blood to the heart muscle).
Electrocardiogram (EKG/ECG)
An electrocardiogram (ECG or EKG) is a painless, non-invasive test whereby the doctor visualizes the electrical impulses of your heart. The technician will place a total of approximately 10 electrode patches on the skin of your arms, legs and chest (sometimes it is necessary to shave small areas of body hair in order to get a good reading). These electrode patches are hooked up to an electrocardiography machine which displays the electrical activity of your heart.
Holter Monitoring
The Holter monitor is a small ambulatory, portable ECG machine that can provide the following information:
The heart's rhythm over a 24-hour period, during normal activities, or recording gets triggered by the patient when a specific event occurs. An event recorder can be used for a much longer period of time.

Correlate any symptoms (chest pain, palpitations, etc) the patient experiences with the heart's electrical activity at that time.

Record any abnormal heart rhythms (arrhythmias) that occur, providing diagnostic information about the type of arrhythmia, how long it lasts, and what might trigger it.

Determine how well anti-arrhythmia medicines are working.
Additional Cardiovascular Services
Additional services include cardiac echo, vascular exams, and dietitian consultations.