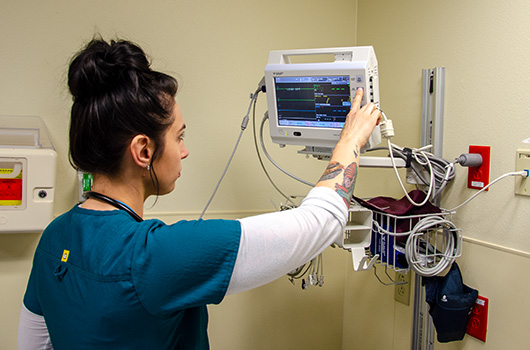 Lillian M. Hudspeth Memorial Hospital is a designated critical access hospital licensed for twelve beds. Critical access standards are unique for rural hospitals and greatly enhance the benefits and improved viability of the rural hospital. The nursing department is staffed with Registered Nurses, Licensed Vocational Nurses and Certified Nurses Aides. The hospital is proud of the high nurse-to-patient ratio providing quality care for all patients. A small town atmosphere of friendliness is one of the highest priorities of all staff members.
For more information, please call one of our nursing professionals at (325) 387-1151. Se habla Español.
Our Hospital Facilities
Hudspeth Memorial is proud to be a regional leader in technology. The facility utilizes electronic health record and point of care services which integrate all departments of the hospital, thus eliminating the paper chart. Electronic health records improve patient safety and allow the nursing staff to spend more time with the patient.
Patients are admitted to the hospital with illnesses requiring antibiotics and re-hydration therapy. Observation including state-of-the-art cardiac monitoring is provided through telemetry monitored by the nursing staff. Outpatient nursing services are also provided, including wound care and IV medication administration. Meals are prepared by physician orders. Dietary services at Lillian M. Hudspeth Memorial Hospital is not typical hospital food. The dietary department prepares all our dishes to conform to your particular dietary requirement.
Though Lillian M. Hudspeth Memorial Hospital does not provide surgical or obstetric services, the general medical care we do provide is personal and with great attention to the needs of the patient and their families. Lillian M. Hudspeth Memorial Hospital is proud to be able to offer personal service that larger medical facilities cannot provide, and nothing beats staying close to home.
Swing Bed Program
A Swing Bed Program is available for in-patient rehabilitation. The Swing Bed Program allows for patients to recover after major joint replacement, building strength after an acute illness and a variety of other rehabilitative needs. Swing Bed admission requires three days of acute care prior to admission and is fully reimbursed by Medicare for up to 20 days.